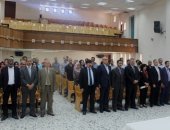 Khadamati Initiative Launched in Bethlehem Governorate
Palestinian Vision Organization (PalVision), under the Tajaawob program, in partnership with the British Council and AMAN, launched Khadamati initiative, which was implemented by a group of pioneer youth from theGovernorate of Bethlehem. The initiative produced a website and a mobile application that illustrate water distribution in the cities of Bethlehem and Doha.
The initiative is considered the first of its kind as it aims to reinforce the concepts of accountability and transparency in the cities of Bethlehem and Doha. The initiative helps raise citizens' awareness in regard to electricity consumption in winter. Additionally, the initiative introduces effective electronic services as it allows citizens to access information efficiently.
Khadamati's website and application were showcased during the launching event. The incorporated tools allow citizens to use online services successfully, increase trust and transparency between citizens and decision-makers, and create space to question officials about services and their distribution in the targeted areas.
The launching event was attended by his Excellency Eng. Mazen Ghunaim, Head of the Palestinian Water Authority, Vera Baboun, Head of Bethlehem Municipality, Akram Nassar, Head of Water Supply and Sewerage Authority, PalVision's Executive Director, Rami Naser Eddin, and Manager of Tajaawob Program, Ismail Abu Arafeh.
Ghunaim stressed the importance of this initiative and the possibilities to expand it to include other cities in the West Bank especially that it focuses on solving water related problems. He added that the idea of the initiative itself is considered difficult due to the processes it involves to collect data and information to ensure far distribution of water.
On the other hand, the Head of Bethlehem Municipality, Vera Baboun, said that the initiative assists in motivating youth to tackle transparency and accountability issues and organizing public services in a way that meets the needs of the individual and the community.
Tajaawob aims to bridge the gap between all the sectors of the community and representatives from official bodies by building citizens' capacities and enabling them to practice their citizenship and responsibilities through generating mechanisms and tools to facilitate constructive dialogue between citizens and authorities.