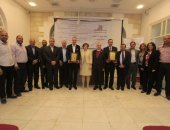 Palestinian Vision Receives Welfare Association Award for Jerusalem
On April 17, 2015, Palestinian Vision Organisation (PalVision) received, the 2014 Welfare Association Award "For Jerusalem, We Work". The 50,000 USD coveted award is given annually to the most distinguished civil society organisation in the field of community development in Jerusalem. The award was delivered to PalVision in a ceremony that was held in Issaf Nashashibi Centre for Culture and Literature in Sheikh Jarrah Neighbourhood in Jerusalem. The award dedicated to Jerusalem is sponsored by Mr. Munir Al-Kaloti on the behalf of his late father Mr. Ragheb Al-Kaloti.
"For Jerusalem, We Work"
PalVision won the Welfare Association Awardfor community development "For Jerusalem, We Work", in view of its continuous work over the past 17 years. PalVision work founded on the empowerment of Palestinian youth through national awareness campaigns, leadership opportunities, and the establishment of national youth networks.; initiating youth-led sustainable development, social equity, and economic viability through volunteerism, social activism, entrepreneurship, lobbying and advocacy, both on a local and national level.
After receiving the Award, PalVision Executive Director, Rami Naser Eddin, said "this is the first time we feel the importance of our organisation, PalVision, we have always looked forward to our future with a hope for change, and did not realise then that our role will increase and grow. This is the first time that we feel that not only the people appreciate our work and realize its significance, but here it is the Welfare Association Award."
In her speech during the ceremony, Dr. Tafida Jarbawi, Director General of the Welfare Association, confirmed that the Association is working to the best of its capacity to enhance the steadfastness of Jerusalemites, empower them, promote the role of Jerusalem's organisations, and empower these organisations to carry out their responsibilities in different sectors with excellence, especially in the sectors of education, health, culture and social service, in addition to the fields of youth and sports. Dr. Jarbawi illustrated the importance of these awards as a tool to promote positive competition and encourage excellence and innovation in various fields.
At the end of her speech, she thanked Dr. Nabil Qaddumi, members of the Welfare Association, also thanked the Kalouti family for their generous support for these awards, and the jury. Finally, she congratulated the winners of this year's awards.
The ceremony brought together members of the Welfare Association, and the winning organisations, several Jerusalem based organisations, friends and supporters, as well as representatives of the award committee, and the selection committees.